You can either purchase your own tablet our buy one from us! If you purchase your own, you can skip step 3. Please make sure that your tablet has the recommended specs for running the Perch App.
If you are receiving a tablet from Perch, your tablet should come mostly set up, and you can skip step 2. It will already have the correct apps on it. Regardless of how many tablets or cameras you purchase, we pride ourselves on making it as easy as possible to get up and running with Perch. We do almost everything for you, but due to privacy reasons, we cannot sign into an Apple ID for you.
Download the Perch App and Configure your Table Settings
Confirm that Automatic Updates are "On"
1) Initial Tablet set up
Remove tablet form box and remove any protective covering.
Power tablet on
Follow on screen prompts to complete your tablet set up (not required if you purchased a Perch Tablet) and connect it to WiFi
2) Download the Perch App and Configure your Tablet Settings
Note: If you purchased a tablet from us, you can skip this step.
Open the App Store, search for "Perch" and download our app.
Once downloaded, click the Home button and locate the Perch app on your screen.
Click and press the Perch app so that the apps all begin to move slightly. Click and drag the Perch app to the task bar at the bottom of the screen to "favorite" the app so that it will be available for selection regardless of which home screen you're on.
Pro Tips
For the best workout experience, turn off Auto Lock. To do this, navigate to your iPad Settings > Display & Brightness > Auto Lock, and set Auto Lock to never.
Make sure your Rotation Lock is on. Ensure the screen is in Portrait (not Landscape), swipe down from the top right-hand corner of the screen, and tap the Rotation Lock icon so that it's highlighted.
Lay out your Perch app, the settings app, and the App Store on the Task Bar for future easy access.
3) Sign into an Apple ID
Note: If you set up your own tablet (step 2) you will have already completed this step and can proceed to step 4.
The tablet needs an Apple ID signed in on it so you can receive automatic updates to the Perch app. You don't want to get left in the dust!
WARNING: We strongly discourage using a personal Apple ID for our tablets. Unless you are the only person that has access to your facility (e.g. home gym), DO NOT use a personal account. The data in whatever account you use to sign into the tablet can potentially be accessed from anyone using that tablet (e.g. emails, saved passwords, etc.).
Note about Large Facilities: It is likely that your IT department has a protocol for dealing with such things, and would happily help you get this set up. Reaching out to them and involving them in this process will help streamline your experience. We are happy to support in any way we can.
Open the Settings app, and tap "Sign into your iPad."
Enter your Apple ID and password. If prompted, enter the 6 digit verification code sent to your trusted device/phone and complete the sign in.
You can create a new one directly on the tablet by following the on screen prompts, or you can sign into an Apple ID you already own or created online. As stated above, please do not use a personal account, unless your Perch system is for personal use.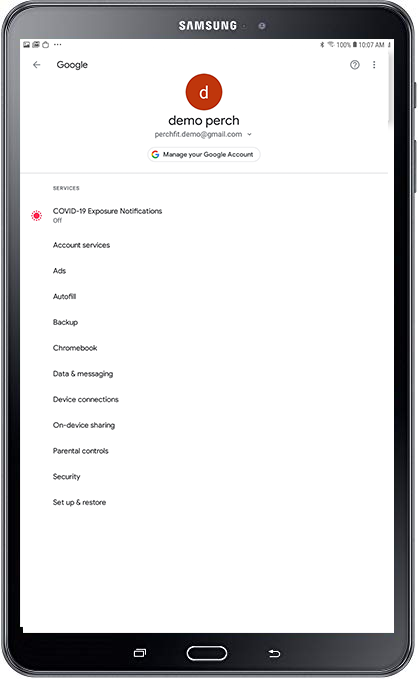 4) Confirm that Automatic Updates are "On"
Open the iPad Settings and navigate to the App Store section.
Under "Automatic Downloads," set "App Updates" to "On."