Whether you're getting your hardware set up for the first time or just getting a refresher on the basics, this article will provide a high level overview of the building blocks of Perch. It's important to understand how all of the individual components interact and work together. This will enable you to quickly and seamlessly install your hardware, solve any issues should they arise, and get the most out of your product.
We will cover the:
System Map
There are 3 main parts to the Perch system.
The Hardware, which primarily includes the camera system. Depending on your set up, your hardware may also include peripheral devices needed to use the camera system. These could include a tablet, tablet mount, or portable battery.
The Tablet App is how you interact with the camera system (e.g. log in, see realtime feedback, change weight, etc).
The Web App can be accessed from any internet browser on any internet connected device. On the web app, you can create users, teams, and groups, visualize and export data, as well as set up real time competitions.
Below is system map of how these components work together: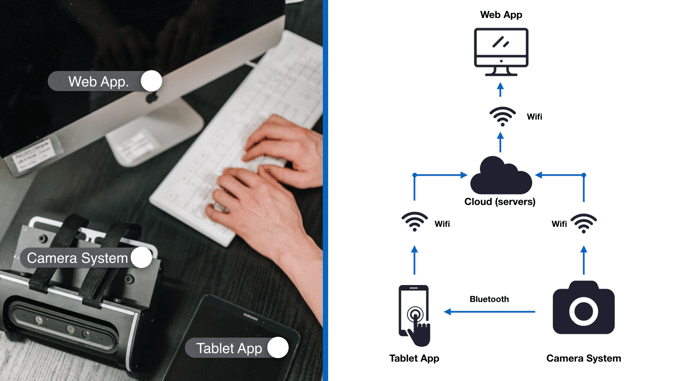 Hardware
There are several different pieces of hardware you will need to use the Perch system. You will need a Perch Camera System, a tablet to interact with the camera, a way to mount your tablet to the weight rack, a way to power your camera, a way to carry and store the system, and finally an adapter in case your rack is a little unique and the camera will not fit on your rack out of the box. Learn more about the hardware in our hardware overview article.
Camera System: The camera system consists of a 3D camera mounted on a motor and housed in a rugged metal and plastic exterior. The housing is made to sit comfortably on your rack and held in place by thick velcro straps. Once placed on your rack, the Perch Hardware doesn't ever need to move. The camera system requires a wifi connection.
Tablet: There is nothing special about the tablet. The tablet app can be run on any android or apple tablet. We can supply your tablet. If you supply your own tablet, we cannot guarantee optimal performance. The tablet requires a wifi connection. Learn more about tablet requirements here.
Tablet Mount: The tablet must be mounted to the weight rack in order to enable easy access to and visibility of the tablet. An ideal mount should be easy to move around the weight rack and be very sturdy so that it is not at risk of damage. We supply tablet mounts if needed.
Power: Your camera must be powered. We offer two options. We supply a 12V, 2A power adapter that can be plugged into any standard wall outlet. If you do not have access to to an outlet or prefer a more flexible option, we sell external battery packs with embedded magnets so that they can be mounted to the weight rack and easily removed for charging. Learn more about powering your device here.
Carrying Case: If you need a way to store your Perch system or travel with it, we provide a protective carrying case that can be used to store all of other hardware.
Rack Adapter: A steel extrusion with embedded magnets that guarantees Perch will fit on your rack if it doesn't out of the box. Learn more.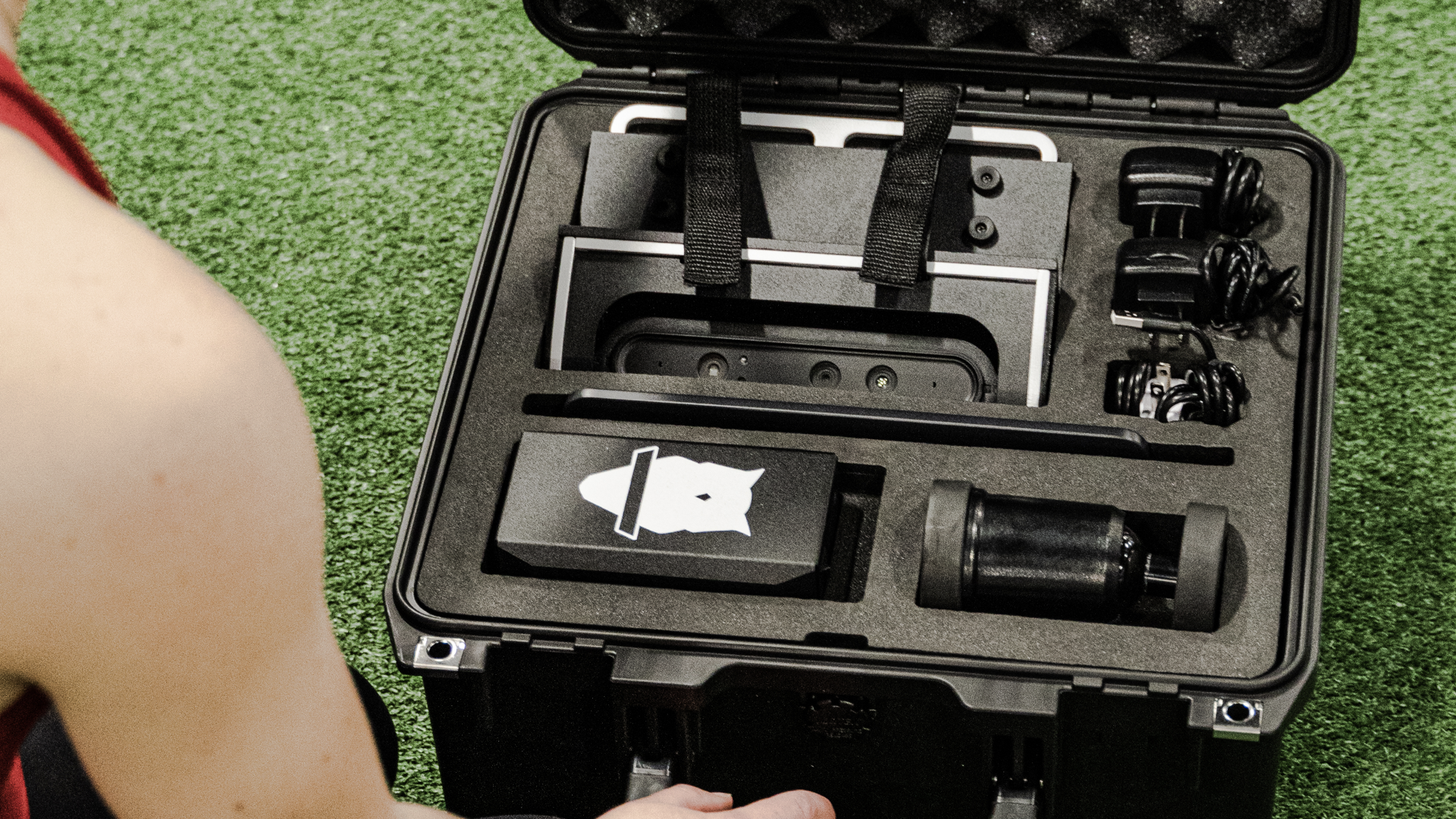 Tablet App
Perch tablet app can be found in the Play store on your Android device (or app store on iOS). Just look for the owl!
Once downloaded, this is where you can log in any users associated with your account, change exercise and weight, and view real time data.
The Perch tablet app connects to the camera via bluetooth connection
All of this data is sent to the cloud and stored, where it is then accessible from the Web App. The tablet app also display historical data via a calendar view.
Learn more about the tablet app via the Tablet App Overview Page.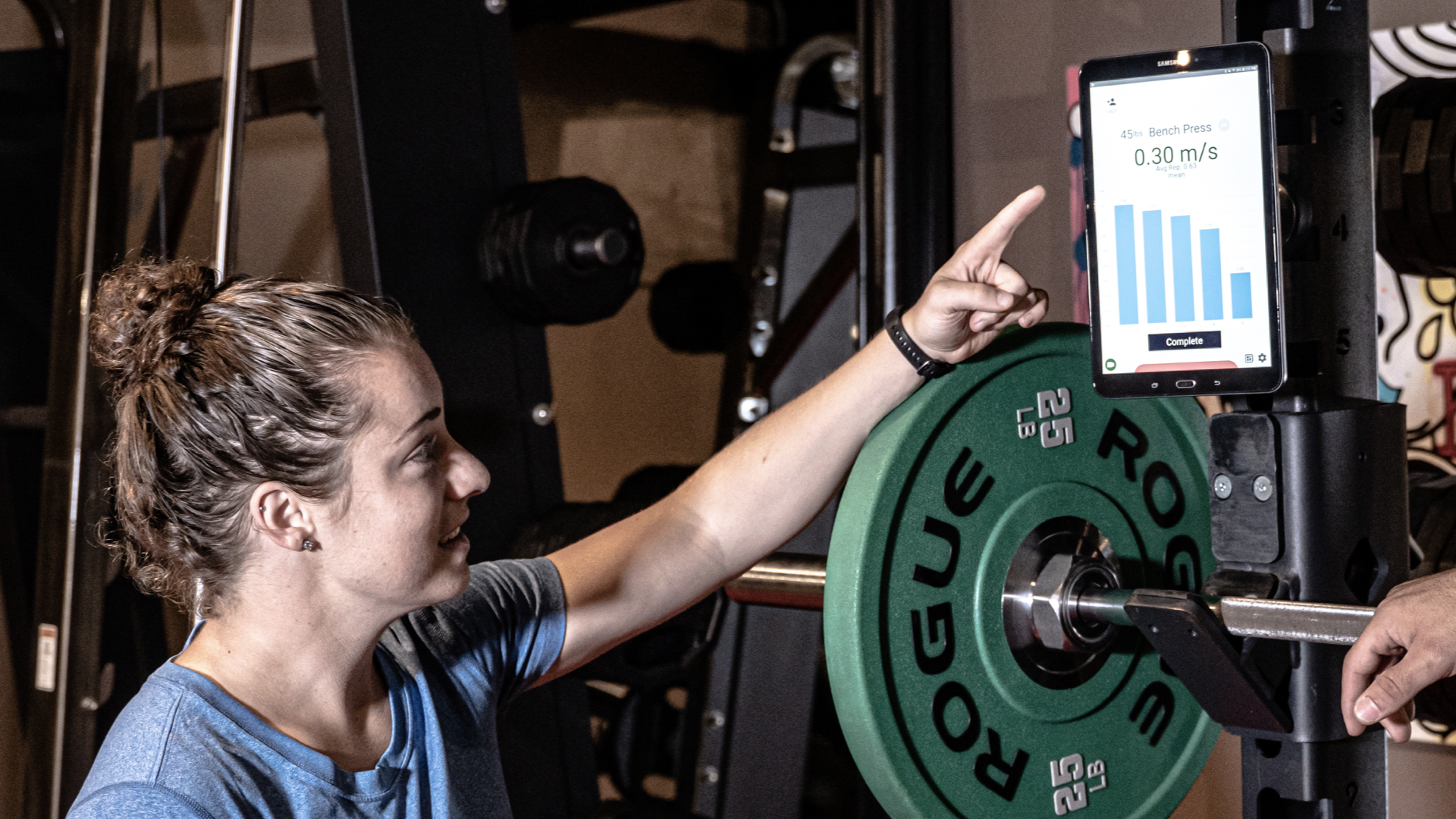 Web App
Perch web app is where you can manage users and devices, track athlete progress, export data, set up and display real time competitions, and more.
When you first obtain your Perch device, the web app is where you will go to create your organization and users prior to being able to use the hardware and tablet app.
Learn more about the tablet app via the Web App Overview Page.